An 87-metre long ship, the TEK Ocean Spirit, has departed the Port of Burnie for Marinus Link's largest underwater engineering survey of Bass Strait. The survey will help refine the final design and installation methodology for the proposed interconnector cable.
Marinus Link Pty Ltd, a wholly-owned subsidiary of TasNetworks, announced last year an Australian company, MMA Offshore, won the $5.5 million contract to carry out critical engineering surveys, known as the Marine Engineering Geotechnical Site Investigation (MEGSI).
The 32 expert crew aboard the survey ship TEK Ocean Spirit left the Port of Burnie on Friday 11 February and will take between four to six weeks to survey the 255 kilometres between Heybridge in North West Tasmania and Waratah Bay in South Gippsland, Victoria.
The survey will be conducted on approximately 110 sites across Bass Strait, in sea depths up to 80 metres. It is Marinus Link's third major marine survey undertaken to determine the most suitable corridor for burying the project's undersea cables.
Marinus Link Pty Ltd CEO Bess Clark said this survey is another demonstration of Marinus Link's commitment to rigorous technical processes to sensitively design and build this national-priority infrastructure.
"Marinus Link is key to Australia's clean energy future – increasing reliability, placing downward pressure on electricity prices and cutting emissions by making the most of our high quality renewable energy resources," Ms Clark said.
"Marinus Link, together with augmentations to Tasmania's electricity network, is well underway and has passed a Regulatory Investment Test for Transmission (RIT-T) overseen by the independent Australian Energy Regulator (AER).
"The project is critical to supporting Australia's energy transition, with the Australian Energy Market Operator (AEMO) confirming Marinus Link will deliver significant benefits to consumers both in Tasmania and across the broader National Electricity Market. AEMO has called for the project to be delivered as early as possible.
"The project will deliver thousands of clean energy jobs to regional communities in Tasmania and Victoria. By awarding this major $5.5m contract to Australian company MMA Offshore, we are proud to be supporting Australian businesses as we progress a critical piece of the nation's clean electricity grid.
"We are committed to preserving our sensitive marine and land environments as we progress this project, and will keep work closely with stakeholders to listen to and learn from the local community."
"Marinus Link is giving Burnie the chance to play a critical role in Australia's clean energy future," said Mayor of Burnie Steve Kons.
"We can be proud as locals about this national-priority infrastructure, which will boost our local economy and jobs.
"Local businesses in Burnie will help supply food, fuel and services for the TEK Ocean Spirit and its crew, which will provide an almost immediate economic benefit to our local area," he said.
The ship and its crew from Tasmania, Western Australia and Victoria has been based in Port Anthony (Victoria) getting fitted out for the survey for several weeks in the lead up to departure.
"This survey builds on the results and analysis of previous surveys we have conducted. The locations chosen to take samples have been selected to minimise the impact on the seabed floor, reefs and marine life," said Offshore Lead for Marinus Link, Sean Van Steel.
For video footage of the TEK Ocean Spirit and interviews with Marinus Link CEO Bess Clark, Marinus Link Project Director Steven Clark and Offshore Lead for Marinus Link Sean Van Steel, please visit this link. For images of the vessel please visit this link.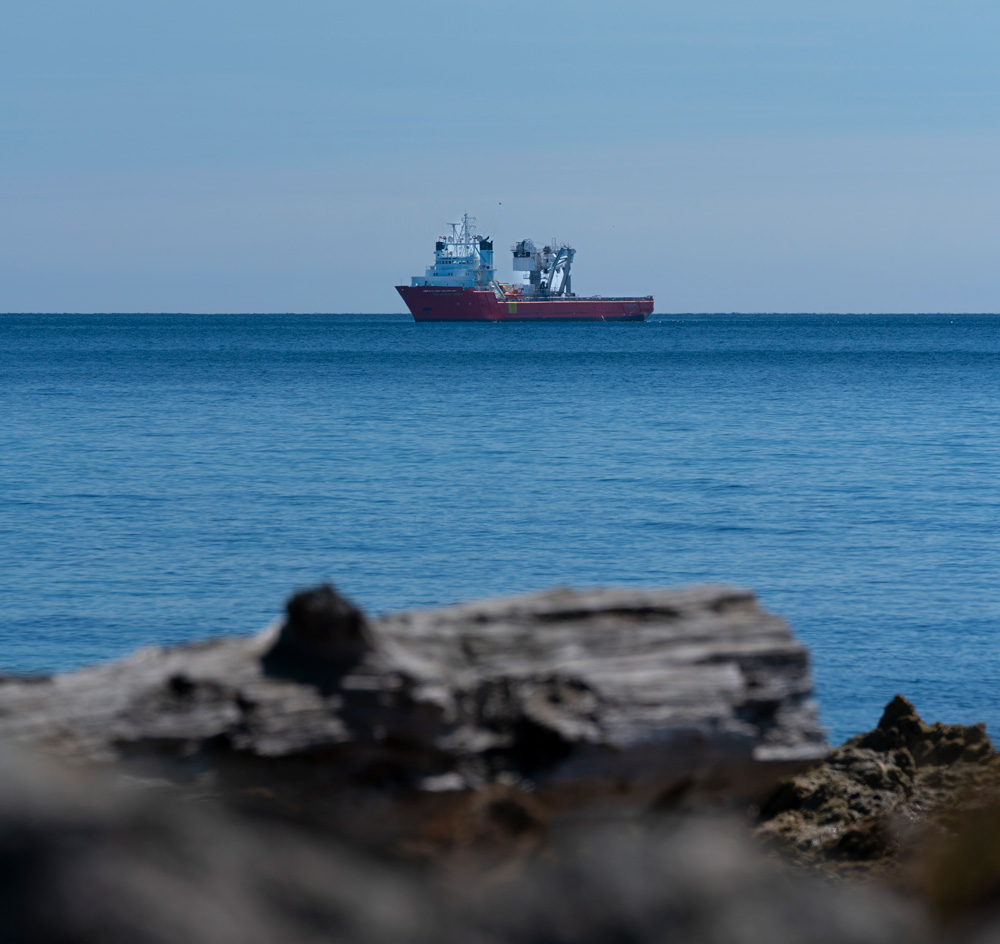 Background
The $3.5bn ($2021) Marinus Link interconnector is a proposed 1500 megawatt electricity and telecommunications connection between Victoria and Tasmania.
Marinus Link involves approximately 255 kilometres of undersea High Voltage Direct Current (HVDC) cable and approximately 90 kilometres of underground HVDC cable, plus converter stations in Tasmania and Victoria. The supporting North West Transmission Developments in North West Tasmania involves the construction of approximately 240 kilometres High Voltage Alternating Current (HVAC) transmission lines.
Marinus Link will unlock emission reductions of at least 140 million tonnes of CO2 by 2050, the equivalent of taking approximately a million petrol/diesel cars off the road.
1500 megawatts equates to supplying approximately 1.5 million Australian homes with electricity at any given time.
Project Marinus (Marinus Link plus North West Transmission Developments) will create at least 2800 direct and indirect jobs through construction, with direct economic investments in regional areas of approximately $3bn.