A new report released today by the Australian Energy Market Operator (AEMO) confirms the vital role Marinus Link will play in Australia's optimal path to net zero emissions.
Marinus Link, together with the Tasmanian North West Transmission Developments is considered by AEMO as fully actionable.
AEMO says progressing Marinus Link and supporting transmission to be in service as early as possible is the correct course of action to optimise benefits for consumers. The report also suggests all brown coal and two-thirds of black coal-fired power stations could be retired by 2032, requiring a significant investment in renewable generation, storage and transmission.
AEMO calculates that priority transmission projects making up the optimal path will deliver $26 billion in net market benefits to consumers, a return on investment of 2.5 times. Of that, Marinus Link alone is set to deliver net market benefits of $4.6 Billion, nearly one-fifth.
Marinus Link CEO Bess Clark said AEMO's Draft 2022 ISP notes that energy storage in all its forms, is the 'most pressing need in the next decade' for the National Electricity Market to manage the daily variability of wind and solar.
"The report confirms that we will need all available energy firming technology, including deep long duration pumped hydro storage and further interconnection, to support the rapid transition underway".
"The team at Marinus Link is getting on with the job to deliver a national priority project in partnership with governments, industry, business and the community."
"Marinus Link will support a smooth and reliable energy transformation, and see thousands of clean energy jobs created in regional areas, millions of carbon emissions saved, and place downward pressure on electricity prices."
Background
The $3.5bn ($2021) Marinus Link interconnector is a proposed 1500 megawatt electricity and telecommunications connection between Victoria and Tasmania, plus supporting transmission network developments in Tasmania's North West.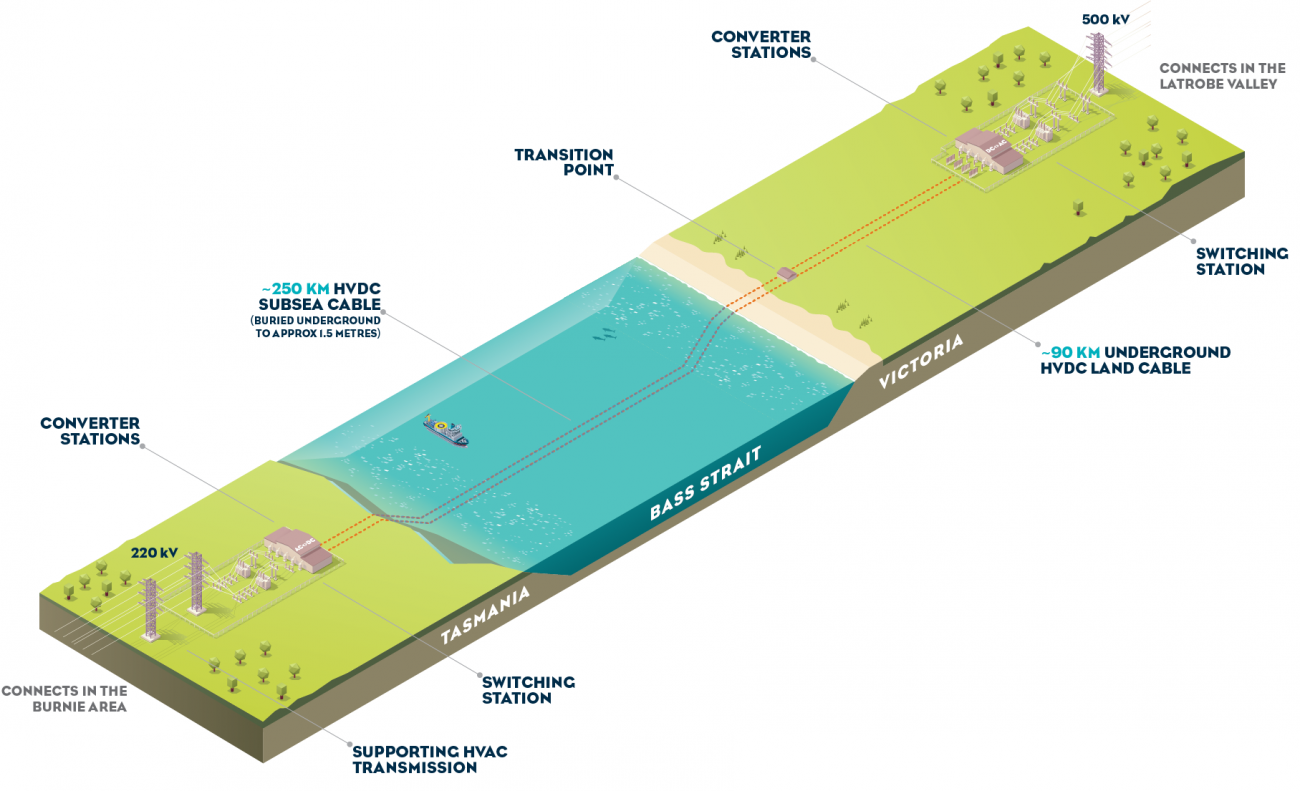 Marinus Link involves approximately 255 kilometres of undersea High Voltage Direct Current (HVDC) cable and approximately 90 kilometres of underground HVDC cable, plus converter stations in Tasmania and Victoria.
Marinus Link will unlock savings of at least 140 million tonnes of CO2 by 2050, the equivalent of taking approximately a million petrol/diesel cars off the road.
1500 megawatts equates to supplying 1.5 million Australian homes with electricity at any given time.
Marinus Link Pty Ltd is a wholly owned subsidiary business of TasNetworks, which is wholly owned by the State of Tasmania.