Marinus Link is an underground and undersea electricity and data cable that will further connect Tasmania and Victoria.
The cable will run 255km undersea from North West Tasmania to Waratah Bay in Victoria, then a further 90km underground to the Latrobe Valley. Converter stations at each end will convert the electricity from direct current (DC) to alternating current (AC), for use in the states' grids.
Marinus Link will have a 1500-megawatt (MW) capacity, equal to the power supply for 1.5 million Australian homes.
The project will be delivered in two stages. Construction of stage one is expected to start in early 2025.
Benefits
Marinus Link will ensure customers and businesses have access to the lowest-cost, most reliable power.
It will allow Tasmania to combine the benefits of solar, wind and hydro, giving Tasmanians the lowest possible power prices and giving new industries the energy confidence to establish in Tasmania.
For Australians, Marinus Link will unlock Tasmania's hydropower resources, providing access massive amounts of renewable storage capacity, 30,000x the size of Victoria's Big Battery.
Marinus Link will support economic growth and stronger communities.
In delivering a reliable, secure energy supply and stronger data connections, Marinus Link will allow Tasmania to attract investment in renewable energy generation, data centres and new industries, providing more than $10 billion in gross market benefits.
Marinus Link will support the investment in renewable energy projects in Victoria by providing access to a new market, and it will create new jobs and a pipeline of industry for the future. At peak construction, Marinus Link will create over 2000 direct and indirect Tasmanian and Victorian jobs and thousands more as a result of growing industries.
Marinus Link route
Marinus Link will not follow the same route as Basslink in Tasmania or Victoria. This geographic diversity will support a more reliable and secure electricity supply for customers.
The proposed location of Marinus Link in North West Tasmania enables connection into some of Australia's best renewable energy and storage resources. In Victoria, the proposed connection is at Hazelwood Substation where there is access to significant Latrobe Valley transmission capacity.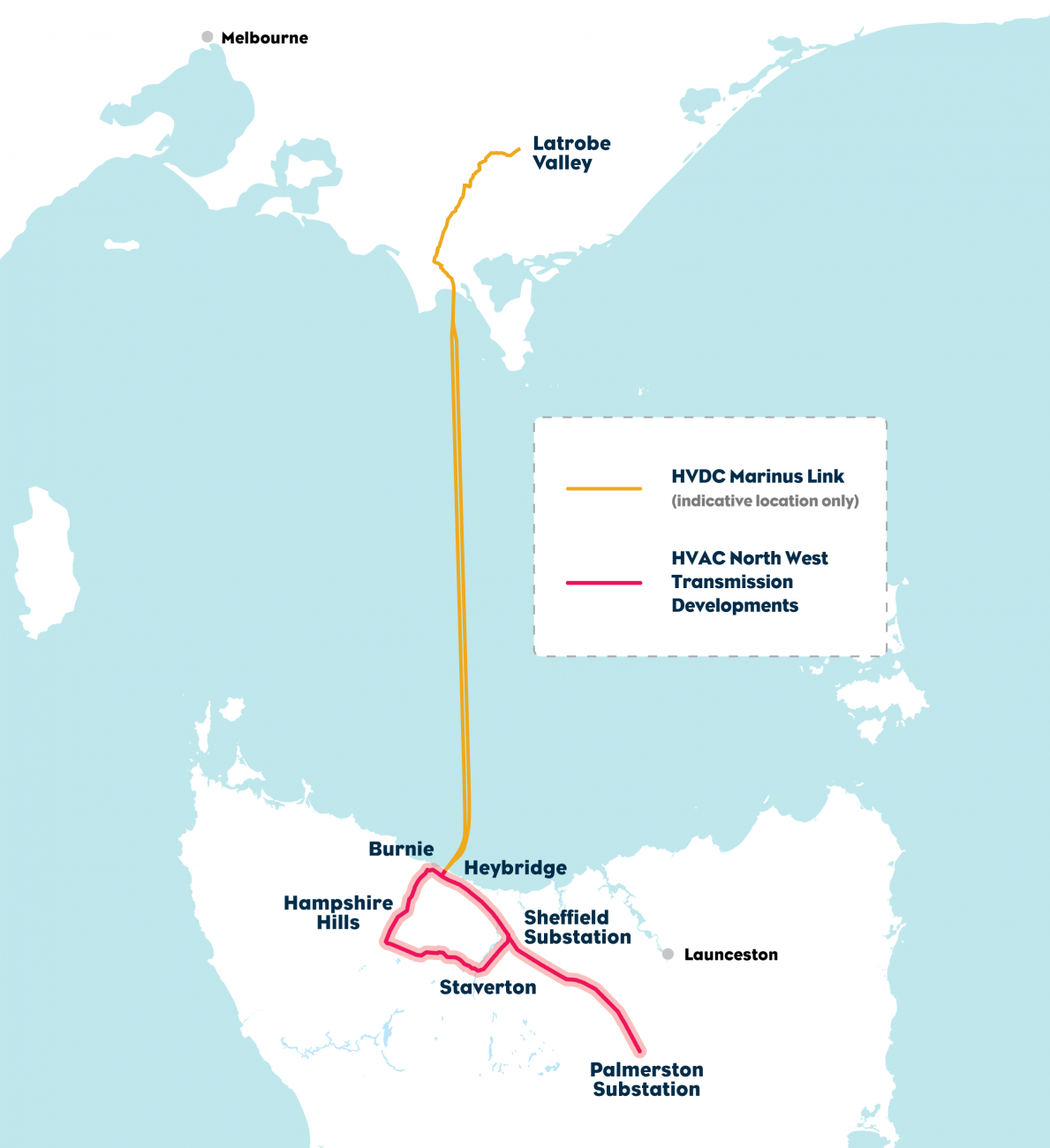 Interconnectors
The project is an interconnector, as it connect two or more transmission networks. Interconnectors allow power to flow between different regions (i.e., between Tasmania to Victoria), and allow the efficient transfer of electricity from renewable energy generation zones to where the electricity is needed. Interconnectors can increase the resilience of the National Electricity Market (NEM) and make energy more secure, affordable and sustainable for customers.
Interconnectors are common around the world including in Australia. They play a critical role in supporting Australia's transition to a clean energy future.
For more information read the Marinus Link fact sheet.