Caroline Wykamp – Chief Executive Officer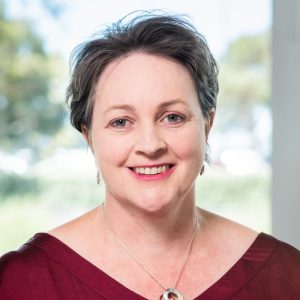 Caroline Wykamp is an experienced executive and authority in energy markets with over 25 years in the industry. Her expertise covers leadership, wholesale markets, financial risk, start-up, financing, product development and leading teams.
Caroline's experience in large energy companies spans the delivery chain, from generation to retail. Her executive roles include Chief Commercial Officer at Hydro Tasmania, the largest renewable generator in Australia with the most complex energy asset portfolio.
Caroline's experience extends to start-ups with her successful energy retailing business, demonstrating her creativity, commercial problem-solving, and expertise as a change agent in building high-performance teams.
Caroline is known for her strategy and vision demonstrated through a number of 'firsts'. She was the first:
wholesale energy broker in the Australian market
to create a wholesale reallocation deal with a merchant bank
to create an energy markets financing and hedging facility with a merchant bank
to create a company selling solar behind-the-meter contracts
to create a virtual storage financial hedge contract
to sell an ancillary services hedge
to create an options-based retail product
to bring Mentor Walks to Tasmania.
Outside of work, Caroline is a budding artist dabbling in watercolours, oils, pastels and drawing. She also loves entertaining and cooking.
View Caroline's profile on LinkedIn
Stephen Clark – Project Director
Stephen has over 25 years' experience in the energy industry. He has held executive roles in Asset Management, Power System Planning, Engineering and project delivery. Stephen is a member of the AEMC reliability panel and a Director of CIGRE Australia.
Stephen's focus is overseeing the design and integration of Marinus Link into the power systems at each end. He is committed to driving asset and commercial performance for mutually beneficial outcomes. Stephen holds qualifications in Power Engineering and as a Company Director.
View Stephen's profile on LinkedIn
Andrew Hugo – Chief Financial Officer
Andrew joined Project Marinus in 2018. He is a senior finance and commercial leader with 20 years' experience in the development and delivery of major capital projects in the oil and gas, utilities and infrastructure industries. Andrew has extensive experience in developing and leading the financial governance for project specific entities and joint ventures.
Andrew is a Certified Practising Accountant (CPA), holds a Batchelor of Commerce and is a Member of the Australian Institute of Company Directors.
View Andrew's profile on LinkedIn
Maryanne Young – Executive Manager, Governance & Legal
Maryanne joined TasNetworks (from Transend Networks) in 2014 and has been working on Project Marinus since 2018. Maryanne is MLPL's Company Secretary and General Counsel and has over 20 years' experience as a Legal Practitioner both in private practice and a corporate setting, including over 16 years' experience in the energy industry with deep experience regarding the National Electricity Rules, particularly in the areas of customer connection and revenue regulation.
Maryanne is committed to facilitating the development of others. She has a particular interest in the use of mindfulness in the workplace and is passionate about the development of the next generation of leaders. She holds a Bachelor of Arts and Laws and a Graduate Certificate in Legal Practice.
View Maryanne's profile on LinkedIn
Prajit Parameswar – Chief Commercial Officer
Prajit is an experienced professional in the energy industry and markets and has extensive knowledge of the Australian electricity industry value chain, emerging challenges and opportunities. Prajit is a certified practicing accountant (CPA), Graduate of the Australian Institute of Company Directors (GAICD) and has Masters degrees in Business and Professional Accounting.
Prajit has spent over a decade working on the full spectrum of Hydro Tasmania's commercial and trading groups. He has developed commercial models and products, including contract support mechanisms and structures to de-risk investments, and has experience demonstrating commercial viability for traditional hydropower and pumped hydro projects. Prajit brings extensive expertise in commercial contract negotiation, people leadership, trading risk and stakeholder management.