Nation's transmission networks join forces in action on climate change
TasNetworks, the current proponent of the Marinus Link interconnector, has joined with major Australian electricity transmission network companies to highlight the industry's crucial role in decarbonising Australia's economy, ahead of the global climate change summit in Glasgow next week.
Today the CEOs of TasNetworks, Transgrid in NSW, AusNet Services in Victoria, together with the peak body Energy Networks Australia, published an open letter to build awareness of just how important new transmission projects will be to ensuring the transformation of the energy sector is safe, affordable and reliable.
TasNetworks CEO Dr Sean Mc Goldrick said: "Australia's electricity system is transforming at a rapid rate with more Australians wanting their power from clean and green sources.
"That's why the Australian Energy Market Operator has created a roadmap to manage the evolution of Australia's power system, which includes as a national priority the Marinus Link interconnector from Tasmania to Victoria and the supporting Tasmanian North West Transmission Developments.
"AEMO's 2020 Integrated System Plan (ISP) identified that Australia is experiencing what is acknowledged to be the world's fastest energy transition. However, the missing link is new transmission to ensure all the wind and solar generation coming on is safely and reliably connected into our towns and cities.
"The nation's transmission companies are investing in transmission network upgrades, such as interconnectors, to support the connection of new wind, solar and pumped hydro generation, and other smart storage solutions to meet this growing demand.
"Our major electricity infrastructure projects under development in all eastern Australian states will cut hundreds of millions of tonnes of carbon emissions by 2050. For example Marinus Link, connecting Tasmania to the mainland, will alone take the equivalent of a million petrol/diesel cars off the road.
"As we come together to pledge today, we are committed to working with communities, landowners, governments, businesses and industry to fight climate change by building a stronger, modern grid that delivers clean, safe, secure and affordable electricity," Dr Mc Goldrick said.
Energy Networks Australia CEO Andrew Dillon said new transmission, including interconnectors between states, was vital so we could keep pace with renewable generation and storage requirements entering the grid.
"New transmission is not only necessary to connect increasing levels of renewable generation to homes, business and industry, but also to help balance out the variability in wind and solar generation by providing connections to long duration energy storage like pumped hydro," he said.
"There's no transition to renewables without transmission – it will ensure our power grid is resilient and able to deliver reliable and affordable clean energy," Mr Dillon said.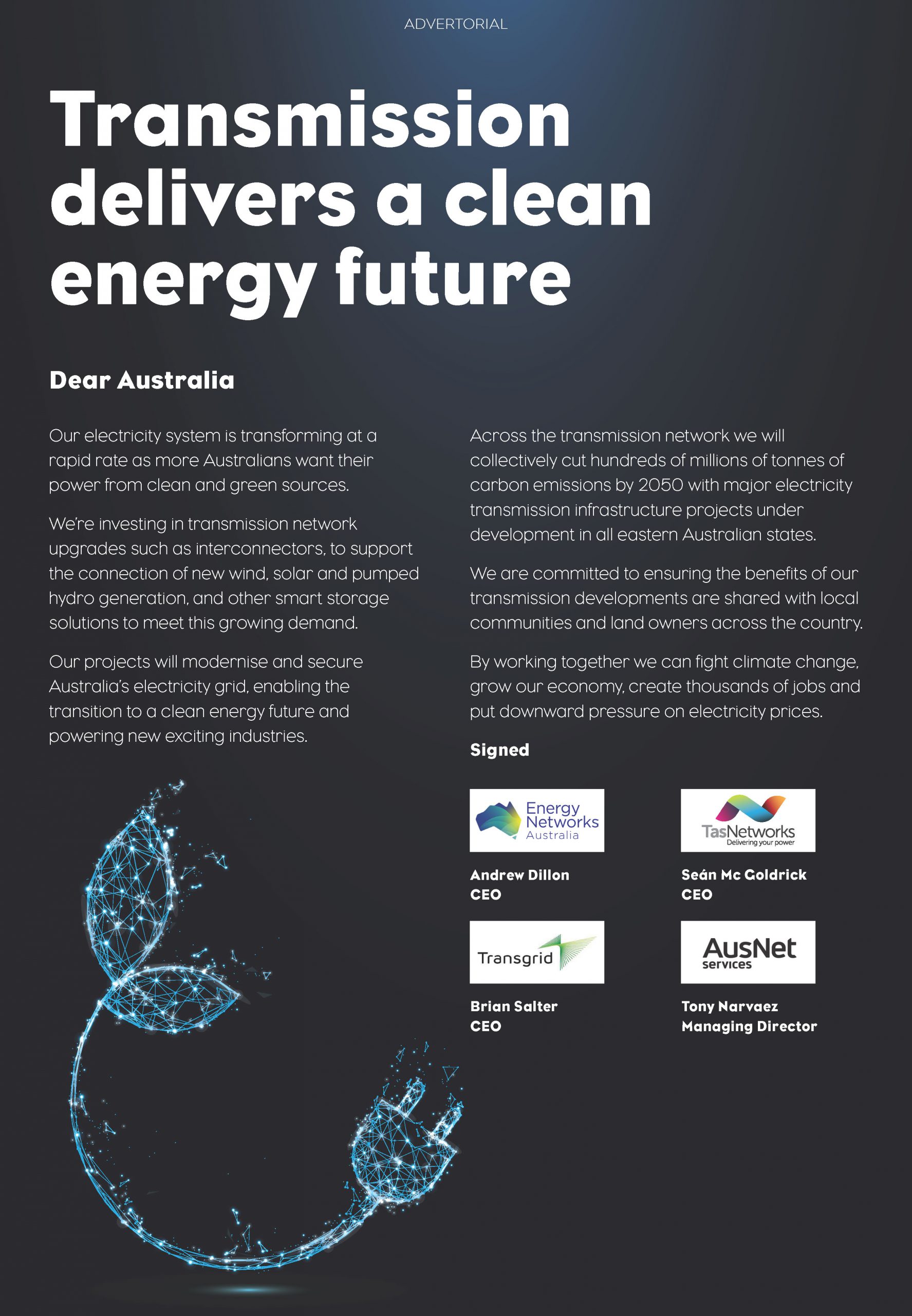 Background
The $3.5bn ($2021) Project Marinus interconnector is a proposed 1500 megawatt electricity and telecommunications connection between Victoria and Tasmania called Marinus Link, plus supporting transmission network developments in Tasmania's North West.
Marinus Link involves approximately 255 kilometres of undersea High Voltage Direct Current (HVDC) cable and approximately 90 kilometres of underground HVDC cable. It will also include converter stations in Tasmania and Victoria, and approximately 220 kilometres of supporting High Voltage Alternating Current (HVAC) transmission network developments in North West Tasmania.
The current target date for commissioning and commercial operation of the first 750 MW stage is 2027-28, with the commissioning and commercial operation of the second 750 MW stage currently scheduled for 2029-30.
Marinus Link will cut at least 140 million tonnes of CO2 by 2050, the equivalent of taking approximately a million petrol/diesel cars off the road.
1500 megawatts equates to supplying approximately 1.5 million Australian homes with electricity at any given time. Project Marinus will create at least 2800 direct and indirect jobs through construction, with direct economic investments in regional areas of approximately $3bn.