In light of the COVID-19 pandemic, TasNetworks is reviewing all work priorities, including those relevant to Marinus Link and the supporting North West Tasmania transmission developments.
TasNetworks provides an essential service: delivering Tasmania's energy supply. We are taking calm but decisive action to limit the risks posed by COVID-19 and prepare for all scenarios. We are focussed on supporting the continuing good health and safety of our team members and community, and on protecting our key operations. While we do this, we expect that some project timelines will be impacted by delays.
TasNetworks is working through forward plans for Marinus Link and the supporting North West Tasmania transmission developments with our Shareholding Ministers, including COVID-19 considerations. We continue to prepare for future engagement activities, to be ready to activate once the pathway through COVID-19 is clearer.
We are flexible
Due to these circumstances, planning for engagements needs careful review. We appreciate that the current uncertainty presents challenges for people to engage in these processes. We are committed to maximising engagement opportunities, recognising that individual circumstance may vary. To that end, we will work with landowners and other interested parties in a tailored and respectful manner.
When the time is right and with respect to communities, we plan to have:
Ongoing discussions with landowners as part of the route selection process and establishing access agreements to conduct surveys.
Discussions with Hampshire to Staverton communities regarding any route alternatives, other network assets and infrastructure including proposed switching stations and associated visual impact assessment.
An updated schedule of engagement on the remaining North West Tasmania transmission developments.
We'd like to hear from you about how we can engage with you and your community during this time so please get in touch via the contact details below.
Our current focus for engagement: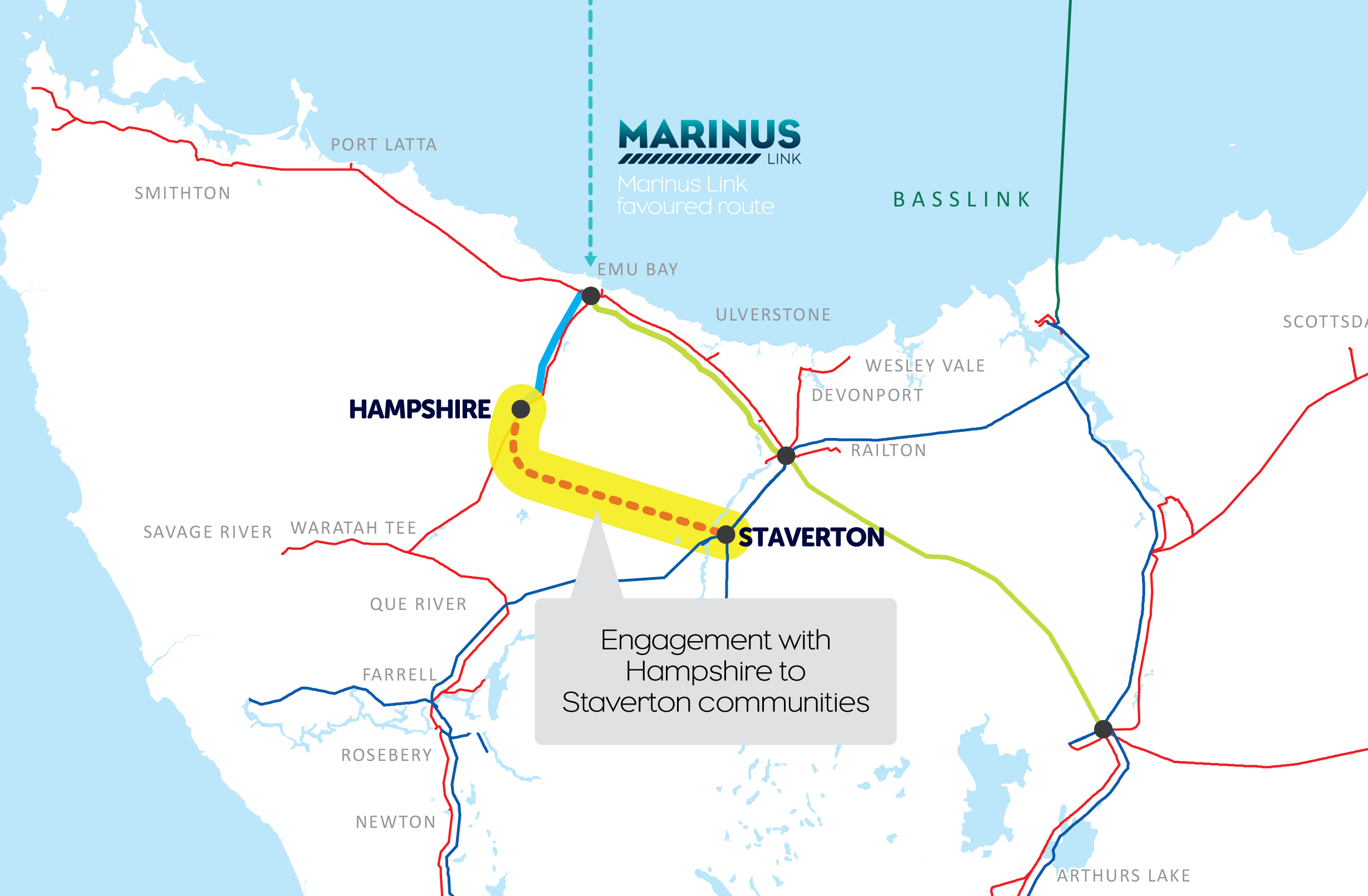 We are here
Please get in touch via our project email and phone line with any questions about the project, or if you want to find out more on the TasNetworks website.
Email: team@marinuslink.com.au
Phone: 1300 127 777